Fluidization of dry bulk materials has been a phenomenon known for many years. By injecting sufficient air into sand, for example, it becomes semi-fluid or even fluid.
A very old process, known as "air-slide" where in a slightly inclined ramp, through a porous fabric air is injected and then fed with a bulk material on top, fluidization occurs and the material behaves like liquid, running as such.
In the 1970s the combination was tested with vibration so as to require much smaller volumes of air and no need to tilt the ramp.
And an interesting effect can be observed: the intense mixing of air, vibration stirring and heat exchange, helped to create continuous dryers or coolers for powdery materials (powdered milk, cast sand, wet sawdust, expanded clay, etc.)
In the agricultural area there are interesting developments for drying of grains in low temperature and cooling of amorphous sugar, with decrease of the humidity.
For a more specific query, contact us by clicking here.
For more details, click on the photos, they enlarge.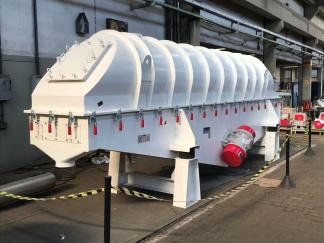 For the continuous drying of wet rice, a Mavi Viproc 800 x 4.500 mm fluid-bed dryer.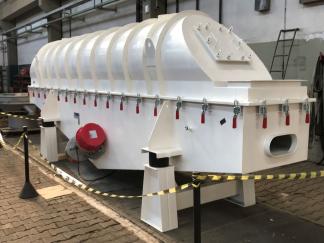 A no-load test run before delivery for this Viproc fluidized bed drying conveyor.