Separapen vibratory classifiers to process the constant flow of bulk materials are an option to remove light particles from the flow, such as powders, papers, plastics and other materials.
To reuse or just clean the flow.
For example heavier peanut seeds, or broken chocolates from their torn plastic packaging, cast sand to remove lint or extra-fine powders. And so on.
Separapen, with air suction, transverse feed for improved distribution, cyclone and ventilating system are the ideal option for large or small capacities.
For more information contact Mavi by clicking here.
Photos: Eng. Ricardo Chiodo.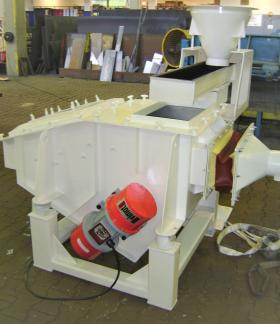 A compact unit, a Separapen separator for torn plastic wrappings from broken chocolate bars for a large chocolate producer in Brazil.