Viproc sand-coolers are always a better and more economical alternative to the mostly very expensive rotary-paddle chiller mixer.
The simple concept of fluidizing hot sand from the melt box demoulding with ambient air and spraying water over the bed, lowering the temperature by removal through latent evaporative heat, is a more practical concept.
Sturdy and simple Viproc equipment at lower cost is preferred by most modern foundries, for example in Brazil, with 62 facilities running the equipment in the country, since 1977.
Up to 200 t/h, with inlet temperature up to 140 ° C and output of 40 ° C.
For more about sand coolers and advice for recommended partner companies and possible complete installations, see Mavi.
Photos by Eng. P.T.T. Bussius
By clicking on the photos they enlarge for better details.
For a major South Brazilian foundry, a new Viproc foundry sand cooler leaving Mavi this December 2019.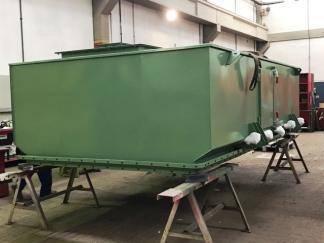 The Viproc cooler hood with the completely installed moisturizing system ready for shipping.