In some processes, while conducting material on a Vical-T vibratory conveyor operators may make manual material selection, if not possible with optical or magnetic systems.
To do this, for example to separate electronic circuits for recycling by certain type (computer cards, old video cassette cards, etc.), the open conveyor is well suited.
In this case, besides shaking the material for better visualization and separation, the Vical-T protecting rails allow the operator to perform his task smoothly and properly.
Low sound impact, ergonomic protections and ease of operation. Think of Mavi for your manual material selection tasks, such as scraps, fruits and vegetables, and other materials.
Photographs Eng. P.T.T. Bussius
Vical-T conveyor for viual inspection and manual selection.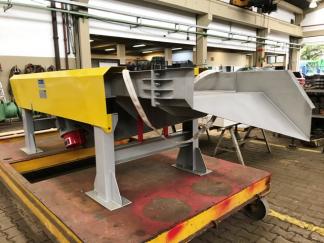 Totally made from stainless steel to avoid scrap contamination with other particles, this conveyor was specifically build for electronics scrap.