In October 2020 tests for a new type of conveyor, REVITRAN PiKuliKo, ended. Another option for replacing belts and their wear (with hundreds of moving parts), screw or chain conveyors is available.
For medium capacities up to 25 m3/h and bulk materials with bulk weight of up to 2.0 t/m3, or single individual parts weighing up to 40 kg. However, they are not suitable for high impact loads.
With a very low frequency and amplitude, the REVITRAN PiKuliKo, driven by a simple three-phase  3 HP motor and up to 10 m in length, can be mounted in series or angle, making curves up to 180 degrees.
The outlet can be front or side, single or multiple. And if you want to sift something along the way, removing fines, screens can be adapted.
The execution can be common carbon steel, or stainless steel in contact with the material if desired. And entirely of stainless steel with protected drive if required by stricter hygiene standards.
They can operate on downslopes of up to 12 degrees and up of 5 degrees. The speed can be controlled between 0 and 110% through a simple frequency inverter.
REVITRAN PiKuliKo, the new trend for low vibration impact transport. See the video below for more details of the tests.
Clicking on the photos enlarges them.
Photos by Eng. P.T.T. Bussius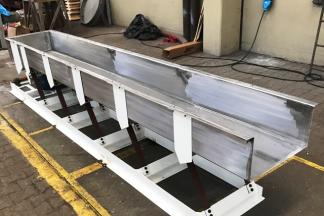 A Revitran Pikuliko on the tests stand at Mavi.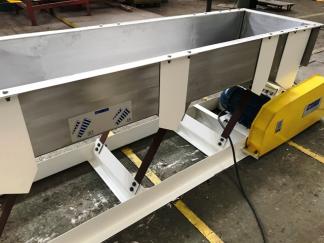 The drive is extremely simple and sturdy, only standard components are used.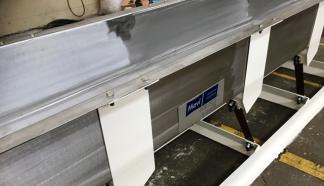 Fewer bolts, fewer welds, lesser weight. The video attached will demonstrate the performance during tests.