Since 1982, Mavi has delivered over 3.000 metres total length Revitran conveyors for sugar.
Mostly for Brazil, with over 200 units delivered to local sugar factories. As well as Colombia, Argentina, Bolivia, Venezuela, Mexico, Angola and Nigeria.
Sometimes combined with Mavi´s Vibrapen sugar screens, the nr. 1 brand in Brazil for this operation.
This March 2021 another giant leaves Mavi, for a large sugar factory in São Paulo, Brazil.
A Revitran 1.500 mm wide and 14.000 mm long for an instant capacity of up to  325 t/h if all centrifuges discharging on it do it at the same time.
A record.
If you need more information on Revitran conveyors for sugar, please contact us by clicking here.
Photos: Eng. P. T. T. Bussius
To enlarge click on the photos.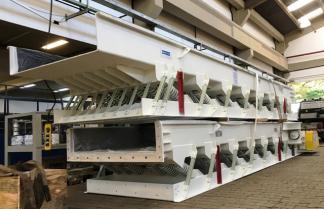 Shortly before being shipped to the customer in São Paulo, Brazil. a large Revitran 1.500 x 14.000 mm unit.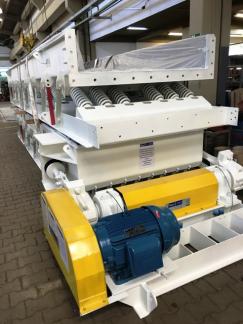 The sturdy KA-6001 drive is dimensioned for 60.000 hours continuous running. But many are fullfilling their job with 140.000 hours.