Many times one has to avoid transmitting vibrations to buildings as much as possible.
The European Norm EN-DIN 4150 establishes a limit of max. 40 mm/s wave speed on the ground, were equipment is placed.
This week Mavi did an overall check on one equipment (Vibrapen 900 x 2600 mm screen) with a special but simple counter-balancing frame.
And the good surprise was the result regarding the wave speed, therefore the supressed vibration transmission.
If you need equipment with better vibration isolation, call Mavi.
Maybe we can help.
Photos and videos: Eng. P.T.T. Bussius
Click on the fotos to enlarge.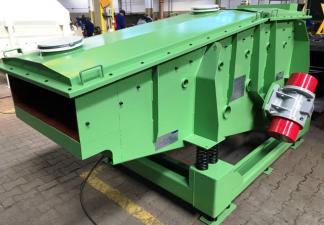 The customer needed a high level of vibration isolation. Their limit is lower than the norm, max. 25 mm/s wave speed, we achieved 9,4 mm/s.