Vibratory bin dischargers or bin activators
The unloading of bulk materials from silos and bins is not always a simple task. Many types of silos have sometimes inadequate shapes. The bulk materials within, in somes cases, tend to alter their overall physical properties after long periods in these deposits.
Is there any help?
Bin activators are a viable solution which can be applied in order to have bulk materials being unloaded from bins, deposits and silos more easely.
Powder-like products, flaky or fibrous as well are among those already unloaded successfully from various deposits.
Equipped with a single or double VIMOT drive from Mavi, with diameters up to 4.000 mm, they solve many problems usually found when stocking bulk materials, like bridge formation, rat-holing, un-mixing etc.
Without any shadow of doubt, VICONE bin activators can help overcome these problems. Think of MAVI when designing your bins and the discharging systems.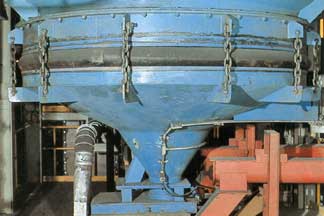 VICONE VIS (single drive) for wet sand unloading in a Brazilian automotive foundry.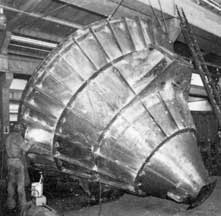 VICONE VID (double drive) for humid to soaked mineral coal.
Manufacturing a 4.000 mm diameter bin activator for corn unloading. Courtesy Corn Products, Brazil.
TOPO